LA Solar Group, in partnership with Tesla, is one of Southern California's certified Powerwall 2 battery storage installers. Our partnership requires us to process the Self-Generation Incentive Program – SGIP for homeowners. SGIP is a California incentive plan that provides financial assistance toward the installation cost of various renewable energy technologies for residential and commercial properties. In 2017, we facilitated 112 SGIP projects making us the 7th highest to process the incentives at $691,630. Swell Energy, Tesla, and Sunrun are in the top 3.
Processing SGIP For Homeowners
The purpose of the SGIP program is to reduce California's Greenhouse Gas emissions and energy demand. Renewable technologies such battery storage, wind, fuel cell, turbines, and waste to heat will help utility companies improve transmission, distribution, and system reliability of electricity.
As a statewide program, SGIP has collected fund totaling $501,735,000. The Program Administrators (utility companies) authorize the funds –
Pacific Gas and Electric Company $217,620,000
Southern California Edison Company $169,260,000
Center for Sustainable Energy $66,495,000
Southern California Gas Company $48,360,000
80% of SGIP funds are dedicated for energy storage with only 13% available for residential homes. But to quality for the incentives, these homes must install a battery storage unit less than or equal to 10 kilowatts. Applications to receive incentives are based on the territories of the Program Administrator's area of service. A lottery is initiated if applications processed for a given day exceed the funds that are available.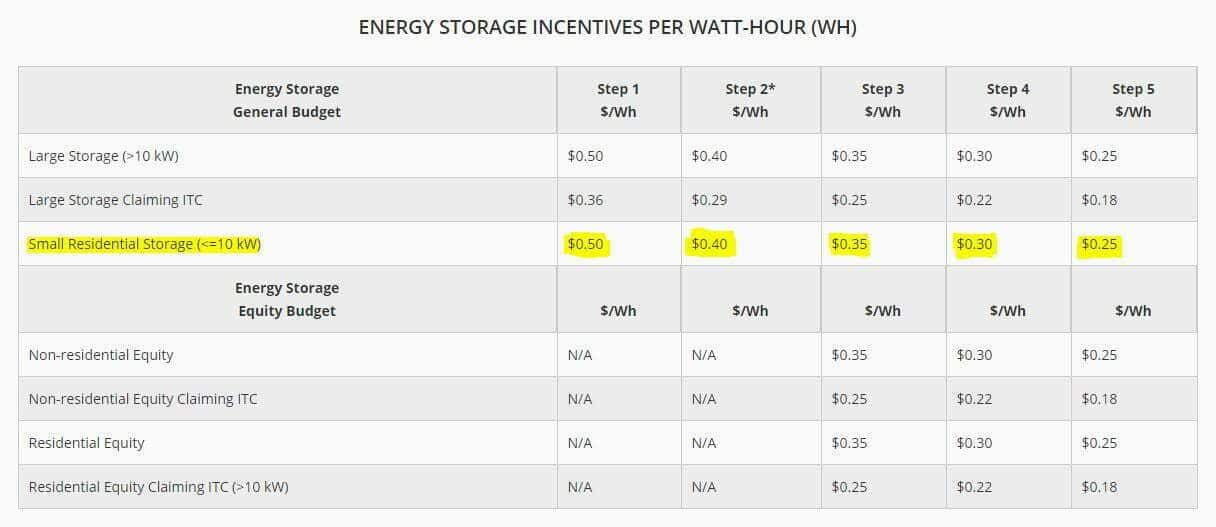 The amount in incentive a homeowner receives for incorporating a battery storage system into their home is divided in 5 steps. With each step, the incentive is lowed by $0.05/watts per hour.

Every step has its own budget. Once the funds expire, the SGIP program moves to the next step. The funds do get reallocated between the steps when a Program Administrator's territory is exhausted. In such cases, funds from large-scale storage, if available, can fund any additional small scale residential projects.
Future of Battery Storage
According to GTM Research, battery storage will continue to grow nationwide from 295 megawatts in 2017 to 2,535 megawatts by 2022. State legislature is pushing growth in self-generating technology by passing law for utilities to administer. In California, Governor Jerry Brown signed Senate Bill 338 which directs utilities in the state to streamline how they must generate, manage, and transfer energy to meet demand. The state compels the utilities to be progressive to carry out energy initiatives and meet their sustainability goals. With technology becoming more sophisticated and cost affordable, self-generation solutions like battery storage has a very bright future ahead.