Ground-mounted solar power plants are a great idea to take advantage of solar energy. However, land resources can be somewhat limited and usually have many more potential uses than large bodies of water. Floating solar power plants provide an innovative solution. They allow for the redistribution of land resources and take advantage of unused bodies of water. 
What are floating solar power plants?
The concept behind floating solar power plants is quite simple. In floating solar photovoltaic (FSPV) power plants, the structure is placed over a body of water as the FSPV system generates solar power.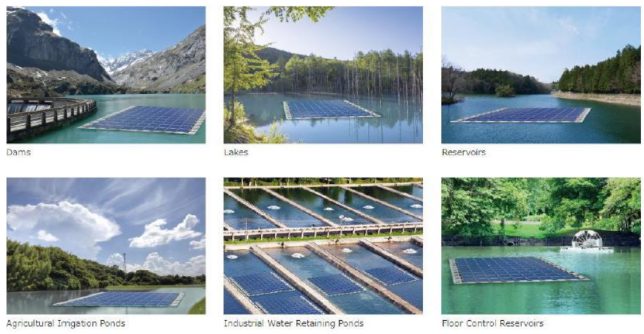 Why choose floating solar power plants?
Like the U.S., many countries have wastewater ponds and small lakes that are not being taken advantage of or utilized. These unused water bodies can be used to implement a floating solar power plant and provide clean energy for many homes in the vicinity. 
FSPV systems have the advantage of providing a faster building time than ground-mounted solar power plants. These types of plants also reduce water evaporation, help preserve the land, and improve water quality to reduce algae growth. 
Inconveniences of floating solar power plants
Nothing is perfect, and even with the many advantages of FSPV systems, they are bound to possess some inconveniences. Disadvantages include improvised cabling, anchoring-related issues, and difficult access through the walkways. However, all of these problems can be easily fixed with quality engineering teams that develop solutions for each particular plant. 
Floating power plants over the world
The U.S. was the groundbreaking country that demonstrated FSPV power plants' efficiency, while Japan is currently the leading nation in most installed floating solar power systems. With different countries being made aware of the energy potential provided by floating solar systems, the capacity installed worldwide has already reached 2.4 GW by late 2019. 
The U.S. potential for the FSPV power plants
The first large-scale floating solar power plant in the U.S.
Far Niente Winery in California was installed in 2007 and became the first commercial-scale floating power plant. With a total capacity of 400 kW array consisting of 1,000 floating panels that provide 177 kW, coupled with 1,300 ground-mounted modules, the plant produced enough energy to run the whole winery effortlessly.  
Present and future projects
Floating solar power systems account for at least 5.9MW of the total solar capacity installed between nine power plants around the country. Three of the FSPV power plants are located in California. The most recent plant finished building in late 2019 and is located in New Jersey. This plant has an installed capacity of 4.4 MW, proving to be the biggest one yet in the U.S.
The National Renewable Energy Laboratory (NREL) has accounted for around 24,000 man-made reservoirs in the country. If FSPV's are installed in all those reservoirs, the agency estimates that the installed capacity could provide at least 10% of the whole U.S. energy generation.